The 2021 Livingstone Lecture: "Tyranny and Law in the 21st Century"
Doctoral student and QUB Law Research Advocate, Daniela Suárez Vargas, speaks to Professor Aoife O'Donoghue about the 2020 Livingstone Lecture.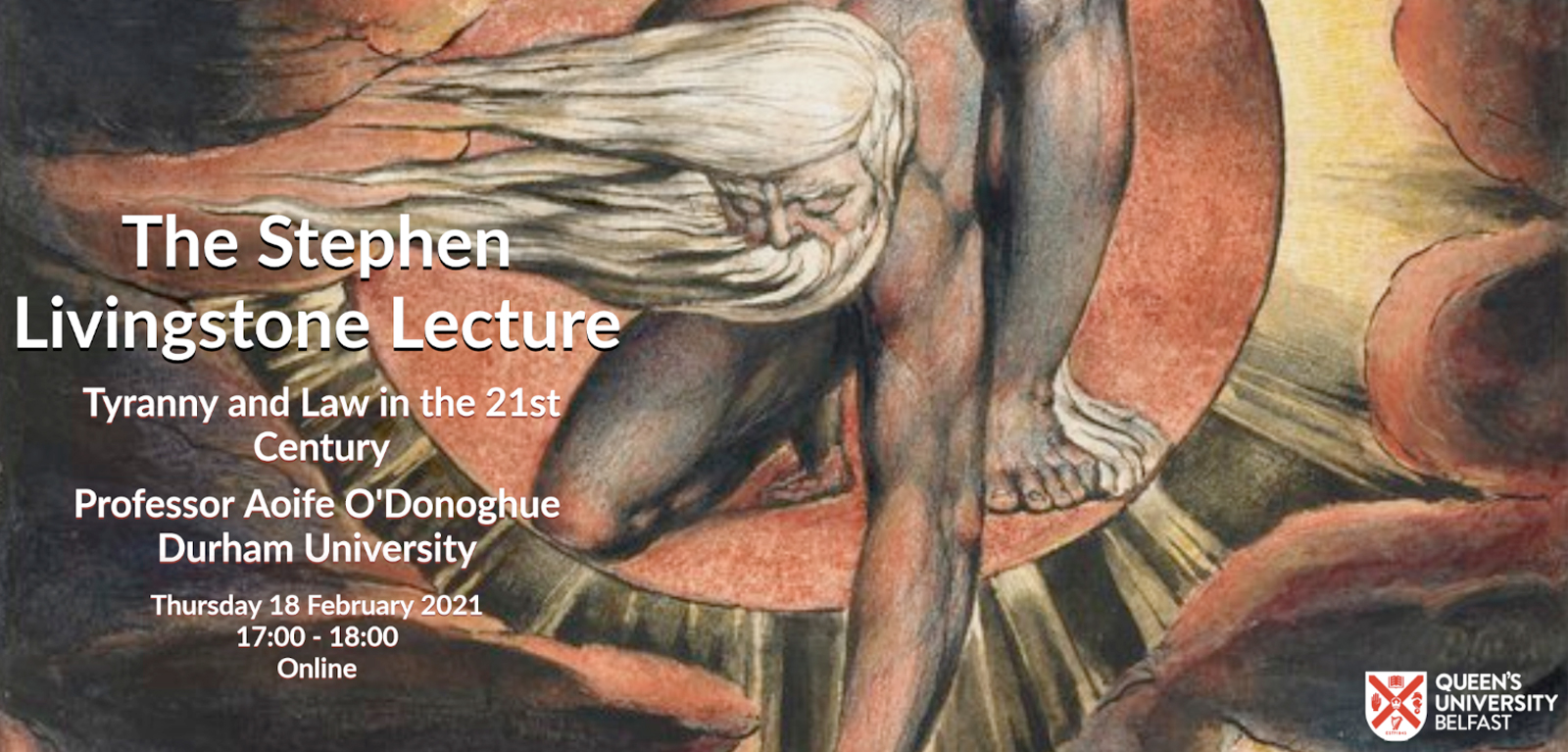 Professor Stephen Livingstone's lasting legacy at QUB Law School immense. As an activist and academic, Professor Livingstone dealt with major issues in human rights, constitutional law and legal theory. His work offered a critical view of the legal system and advocated for the protection of the most vulnerable. He was also a good colleague, and friend, of those who knew him and worked with him. For this reason, every year the QUB Law School commemorates his work through the Livingstone Lecture.
The Livingstone Lecture invites high-profile academics to discuss their contributions in the fields of human rights, constitutional law and legal theory. This year's guest speaker is Professor Aoife O'Donoghue from Durham University. Professor O'Donoghue is a renowned scholar of international law and global governance, whose work examines a wide range of issues on constitutionalism, tyranny, utopias, feminism, legal theories, international legal history and the interaction between law and politics. Her main research interest focuses on understanding why lawyers have used constitutionalist discourses to refute the existence of tyrannies within the international legal system.
I had the opportunity to speak with Professor O'Donoghue, about her academic work and her forthcoming presentation at the Livingstone Lecture:
Q: What is the most rewarding aspect of your research?
A: I would highlight two aspects. First, collaborative work in feminist research. My participation in both the Northern Ireland Feminist Justice Project and the Feminist Constitutional Drafting project allowed me to engage in a very supportive and inclusive discussion. I had the opportunity to learn new ideas from feminist activists, scholars and artists, seeing how feminist debates have evolved on the island of Ireland. Second, the best part of working on tyranny theories has been the study of history. It's a fascinating world, where I can explore how the law has been used and how it has evolved
Q: What challenges have you faced in your research work?
A. At the moment, my main challenge is the pandemic, which has forced me to be permanently online. This situation is quite exhausting and makes it difficult to balance my workload in research, teaching and administrative responsibilities. However, the restrictions caused by the pandemic also have a positive side. Nowadays, it is much easier to participate in academic spaces where I could not attend events before, as travelling obligations interfered with other family and work responsibilities. For example, I have been able to participate more easily in academic events in London and other international fora.
Q: How do you see your field of research evolving in the future?
A. I think international law is changing rapidly. The field has begun to address other relevant aspects of international dynamics, such as the role of individuals, companies and international organisations. Equally, I believe that technological developments and the environment are having a major impact on the scope of international law. In relation to feminism, I believe that its future lies in intersectionality and the emerging queer theory. Finally, I would hope that, over time, the problem of tyranny will become less important. Unfortunately, history has shown us that it is an issue that is unlikely to disappear.
Q: Can you tell us a bit more about your presentation at the Livingstone Lecture?
The presentation is based on a forthcoming paper. In the first half, I will define tyranny and its relationship with law and constitutionalism. I will also outline its evolution until the 21st century. In the second half, I will talk about the Trump administration, analysing how the now former president relied on the US constitutional order to justify his arbitrary governance decisions. I will also examine how tyrannical Trump's behaviour was and the limitations of the law in this context. Finally, I will address how his use of political violence through social media may be an example of the use of fear to control and silence people.
Q: How do you think your research aligns with Professor Livingstone's academic work?
A: What struck me about Professor Livingstone's work was how which he saw the UK constitutional system as being driven entirely from London, excluding the contexts and perspectives in Northern Ireland and Scotland. He understood and acknowledged the complexities of experiences on the periphery, and how they impacted on the English constitutional system. In this way, I felt that there were some similarities between my work and that of Professor Livingstone, as we both have a strong critical approach to constitutionalism and law.
Q: Do you have any advice for students with a strong interest in legal research?
I would advise you to research what fascinates you. Do not do what people think you should do to succeed in your career; just work on what you are passionate and curious about. Trust your instincts, that is what will make you do a good job. No issue is settled, so there is always something new to say! And engage in dialogues between existing scholarship and your own ideas and opinions.
For more information on the Stephen Livingstone Lecture 2021, please visit the following link