A review of the QUB School of Law's Events, 2022-23
As we come to the end of another academic year, it is important to pause and reflect on what has been another productive year for our School of Law. We are proud to have hosted more than 100 events and recorded more than 30 podcast episodes.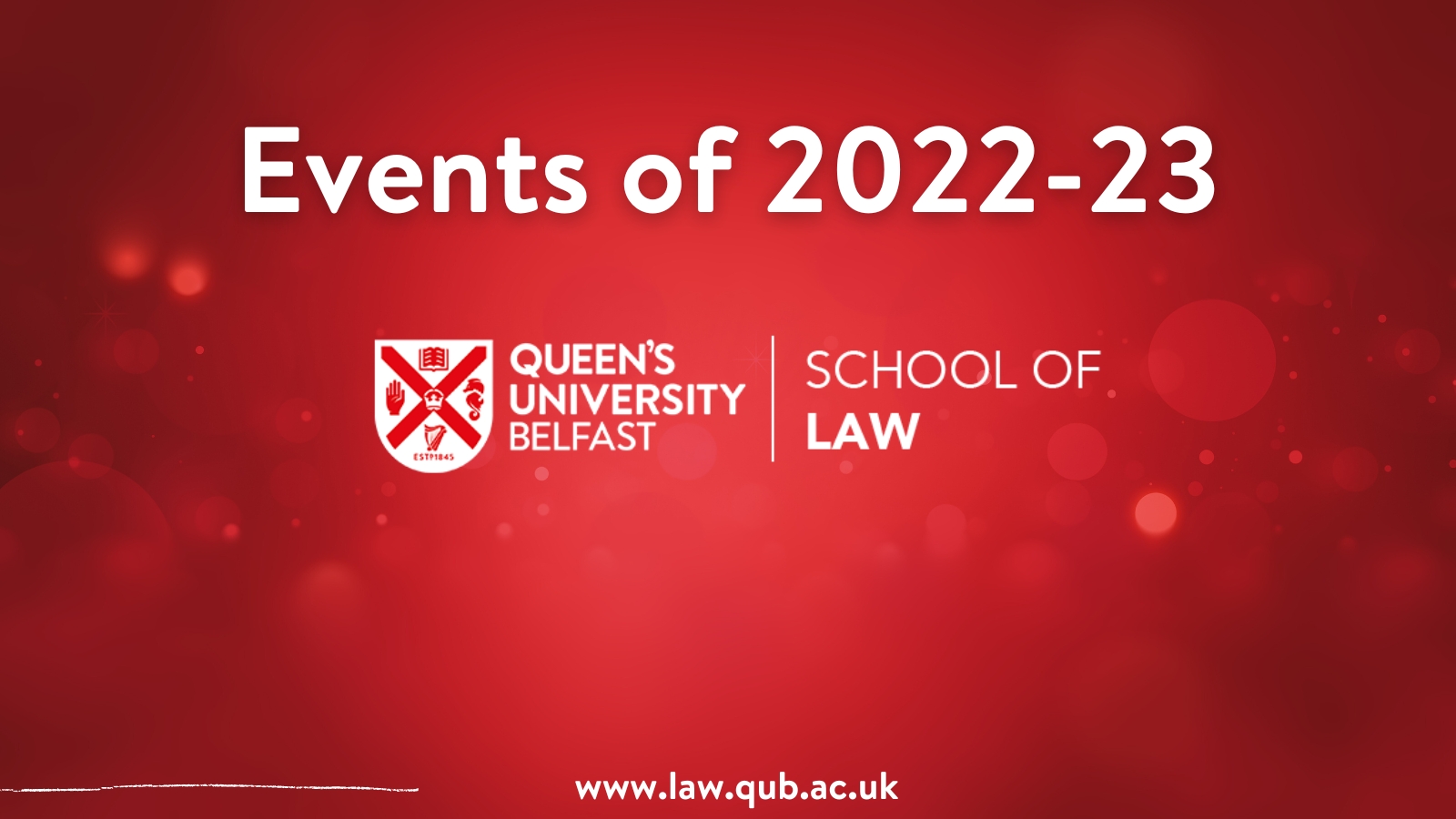 As we come to the end of another academic year, it is important to pause and reflect on what has been another productive year for our School of Law. We are proud to have hosted more than 100 events and recorded more than 30 podcast episodes. A special thank you and recognition to our excellent events officer Mr Deaglan Coyle for his smooth and efficient organisation of all our events.
So many of our events were memorable, and it is always a challenging task to decide which ones to select to include in our review of the year. To see a full list of the events held in the school this year, you can follow this (link). It is important to begin by reaffirming that we place our students at the centre of consideration for everything we do. This year, we had some excellent informal meetups and magnificent events with our students, and we kept up our tradition of pizza lunches - where staff at all levels had the chance to meet and converse with our students in an informal setting. We are mindful of our role in breaking down the barriers to entry and always embrace chances to forge bonds and build relations with our student cohort.
The School of Law is proud to host some much-respected yearly lecture events, such as the Livingstone and MacDermott lectures. In October of this academic year, Alyson Kilpatrick delivered our Livingstone Lecture, "Human Rights - What's In It For Us and Do We Care?". Alyson was appointed to carry out an independent review of the ECHR compliance of several NI 'legacy' investigations, known as Operation Kenova. Her final report was published in August 2021. Her talk focused on why we should all be concerned about a growing threat to our rights.
We were also incredibly grateful to Dame Siobhan Keegan for her online conference in November, which included practical briefings recommending legal practice on how they represent traumatised clients in a way that minimises clients encountering a re-traumatising effect across family law, legal practice, legacy and criminal law. Keegan's talks explored the strategies that lawyers in practice can employ to avoid retraumatising their clients and the pursuit of approaches to protect them from scenarios that would put them at risk.
We could only let a review of the year pass by mentioning our prize-giving night in November, which was wonderfully attended and was a fantastic opportunity to mark the achievement of our students, of whom we are immensely proud. Thank you to Dame Keegan and Professor Loughrey for presenting over 50 students with awards that included more than £60,000 of prize money. Congratulations to our winners for their well-deserved success. Thank you to all our sponsors and supporters of these prizes, of which you can find out more at these links (one & two).
Our constitutional law team have led the way on Brexit implications for Northern Ireland for several years now, and their March event, "Understanding the Implications of the Windsor Framework: The Legal Dimensions of the Agreement" was a continuation of their work in supplying innovative analysis of the background to the Windsor Agreement. You can still view a recording of the event at this (link). Thank you to Professor Christopher McCrudden for pulling together such a great panel of experts for what was an exceptionally valuable and authoritative event. Thank you also to other panelists, including Stephen Abram of A&L Goodbody, Belfast, Professor Gordon Anthony, Professor Katy Hayward, Dr Billy Melo-Araujo, and Professor Aoife O'Donoghue.
The School of Law had an important role to play in the marking of the 25th anniversary of the Good Friday Agreement. Credit to Professor Louise Mallinder, Dr Anna Bryson, Dr Luke Moffett, and Prof Kieran McEvoy for their excellent work examining how legally compliant legacy-related legislation is. You can read more of Kieran and Louise's work on GFA25 at this (link). The output of the QUB School of Law included an edited book Research Handbook on Transitional Justice, and an article from Anna in Oral History in Spring 2023. Anna also delivered a paper on 'The Missing Piece in the Peace: Dealing with the Legacy of the Past in Northern Ireland'. Thank you to the team for their presence and impact at the events marking GFA25.
Our ICCJ lecture this year was our most striking for years. We want to express our gratitude to Profession Reuben J Miller for his lecture on the prison system in USA. As Miller explains 'each year, nearly 600,000 Americans are released from prison and join a population of twenty million people who live with a felony record. Incarcerated people in the U.S. are met by nearly 45,000 laws, policies and administrative sanctions upon release', leading to a supervised society that Reuben Jonathan Miller terms "carceral citizenship." The talk left a lasting impression on those in attendance, and we thank Professor Miller for delivering.
In May, Dr Alice Diver hosted a three-day symposium examining the ethics around adoption and, in particular, "Avoiding Origin Deprivation and Genetic Identity Losses". The symposium explored the rights of the child and the challenges of retracing or uncovering identities and relatives. The symposium was rich with its range of contributions. Many thanks to Professor Emily Hipchen for her support in putting this event together and her paper situating Frankenstein at the centre of her analytical framework. A special mention goes to the Korean Adoptee Adoption Research Network who were centrally involved in the event. Our thanks also to Brown University for their collaboration in this work. The event saw seminal papers from Nikolaj Jang Lee Linding Pedersen, Tobias Hübinette, Ryan Gustafsson, John McLeod, Frances Latchford, Boon Young Han, Gonda Van Steen, Christina Baglietto, Laurence Bordier & Jacqueline Williamson MBE. We are grateful for their contributions.
Our MacDermott Lecture has always been the highlight of the academic year, and this year continued in that fine tradition. University of Bristol's Professor Devyani Prabhat delivered an important paper on" The Rule of Law in Immigration, Nationality and Asylum". Professor Prabhat pondered recent changes in immigration control of EU nationals, in the UK after, Brexit, as well as developments in the cancellation of British Citizenship. Prabhat's discussion specifically questioned whether UK's application of immigration law followed international law and whether it upheld the principle of 'law not discretion'.
We are also proud, at the School of Law, that our podcast output was prodigious this year with a total of 30 episodes produced and edited. Some highlights include our International Women's Day podcasts with Prof Joan Loughrey and Prof Anne Marie McAlinden. LawPod continued to lead the way in exploring emerging fields in the legal sector. For example, it was a first for our school to host a live interview with ChatGPT where the AI tool fielded questions and talked at length on some key topics. We also hosted a podcast to celebrate Dr John Stannard's achievement, receiving an OBE in the New Year's Honours list for his services to law education, with a podcast reflecting on his life in law. At the QUB School of Law, we are all incredibly grateful to Richard Summerville and Lauren Dempster for their dedication to producing continued high-quality output.
Over the summer, QUB Law will be busy hosting more events, which you can find advertised on our events page. This includes our law conference at the end of June as well as a training school in open-sourced intelligence gathering in July, hosted by GLAN. We thank you for all your support and look forward to collaborating more with you in the months ahead.