AHSS Digital Learning Awards sees Law win for Lawpod & Global Skills
Digital Learning Successes in Law.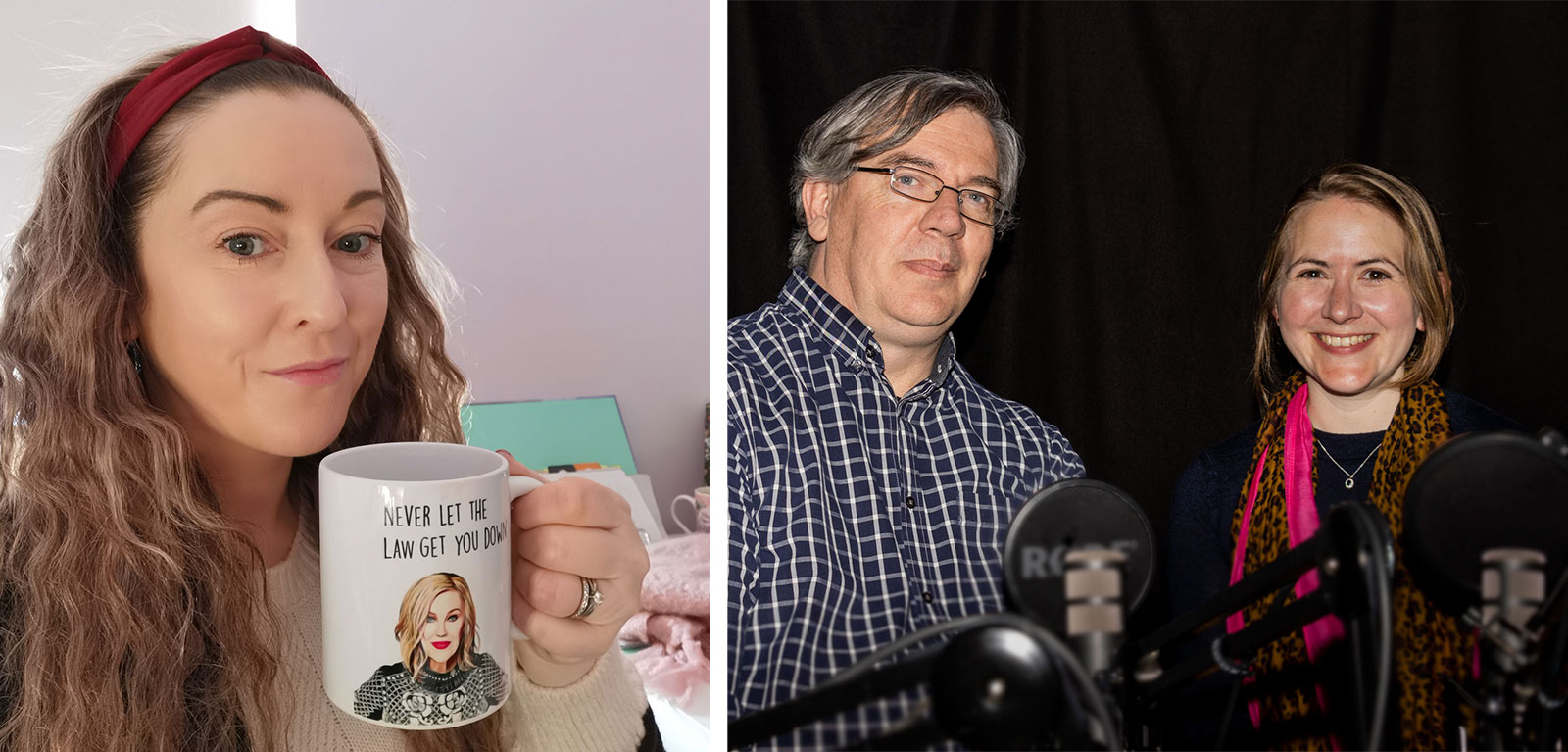 The AHSS Digital Learning Awards took place on Tuesday 31st May. Five initiatives from Law made the shortlist, with two of those winning in their respective categories. Many congratulations to Lauren Dempster and Richard Summerville for winning in the Innovation category and to Clare Patton for winning in the Student Engagement category for Global Skills.
LawPod
LawPod is a co-curricular platform for active learning and skills development, developing technical skills in production and editing, and building key transferable skills in communication, organisation, research and team-work. Under the direction of Dr Lauren Dempster and Richard Summerville, LawPod has been a trailblazing effort in the faculty, leading the way for other similar projects to come to fruition.
Dr Dempster and Mr Summerville commented;
"LawPod was established by Dr Rachel Killean and Richard Summerville five years ago. We are delighted to have won in the innovation category against such steep competition. Rachel shares this win with us and we are grateful for her continued enthusiasm and support for LawPod.
We want to thank the former Head of School Prof Robin Hickey for the initial championing of the initiative, Prof Joan Loughrey, current head of school and Colette Farrell, School Manager, for their continuing support. We'd also like to mention the support from the Queens Annual Fund which helped us get off the ground. Of course, it wouldn't happen without the students so thanks to all of the participants over the past 5 years for their wonderful contributions to our growing bank of episodes."
Global Skills
Dr Clare Patton uses various digital tools in her co-curricular Global Skills initiative. She purposefully uses these tools to enhance student engagement, encourage digital skills development, and highlight the importance of the digital space within their future career pathways. Dr Patton said;
"Thank you to the judging panel for selecting me (as director of Global Skills) as this year's winner in the AHSS Digital Learning Awards 'Student Engagement' category. I am so delighted! We have a lot of work to do to make sure all law students can access and benefit from Global Skills and build the range of projects that we offer across our three project strands; Academian, Arts, Technology.
I am lucky to have wonderful support from our Head of School Prof Joan Loughery as well as great support from the previous Heads of School Dr Marek Martyniszyn and Prof Robin Hickey.
Global Skills is a team initiative and so, firstly, thank you to my co-cordinator Richard Summerville who has worked on GS with me from the beginning as well as Dr Elizabeth Agnew who has given up many hours of her own time to develop the project - as well as so many other colleagues who have helped and advised. Thank you to our school manager Colette Farrell for her ongoing strong support and Susan Burton and Judith Paxton for their long-running advice and guidance. Thank you to the past GS Student Coordinators and especially to our current GS student coordinator, and 2021 GS Ambassador, (and incoming PhD student) Anna Montgomery.
Finally, the biggest thank you is to the incredible QUB Law students who have and continue to participate in GS - you make the project what it is and will be the driving force behind its journey to even bigger and better events in the future!
As can be demonstrated, GS really is a team project! Thanks to all!"