AHSS Digital Learning Awards shortlist includes five initiatives from Law.
Digital Learning in the Law School.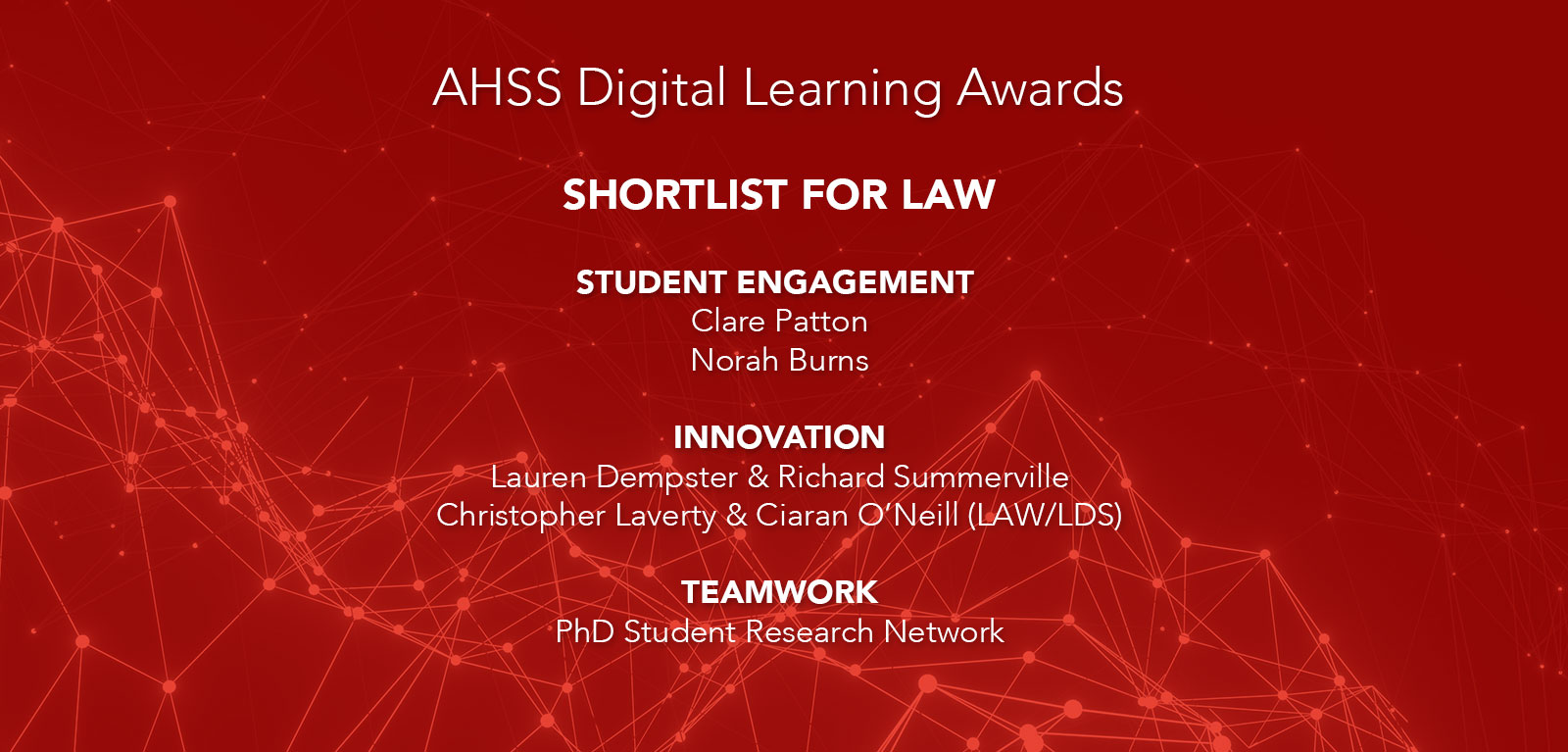 The AHSS Digital Learning Awards, now in their second year, aim to recognise and celebrate individuals and teams from across AHSS faculty who have made significant contributions to digital learning at Queen's.
This year there are 26 candidates shortlisted across six categories, with five candidates from Law in the running.
Professor Joan Loughrey said, "This is very well deserved recognition of the hard work and innovative and creative projects of all of those short-listed, which have made a tremendous contribution to the student experience in the Law School and our sense of community. I am really delighted for them, and wish them all the very best in the finals."
The Law School Nominees are as follows;
Student Engagement Category - Clare Patton has been nominated for the 'Student Engagement' category for her use of various digital tools in her co-curricular Global Skills initiative. She purposefully uses these tools to enhance student engagement, encourage digital skills development, and highlight the importance of the digital space within their future career pathways. Clare stated,
"I am thrilled (and surprised!) to have been shortlisted for the AHSS Digital Education Awards. Global Skills (GS) is my work passion and I care very much about the outcomes of the students taking part. We use a variety of platforms to enhance learning for GS participants and also for hosting events. The most recent events include a 'digital networking skills' workshop with popular law blogger, Rebecca Morgan. Another that comes to mind is 'An Evening with Tim Kasser' where best selling author, Tim Kasser joined the students from his home in New York for a Q&A about his work – the students joined the event from home (via Zoom) or from the Moot Court where they also enjoyed a panel session and a drinks reception. Due to Covid, GS suffered as the aim is to 'build a community within a community' but, along with the knocks brought on by lockdowns, the GS team has learned how technology can enhance the sense of community by including those who might not otherwise be able to join events. We are still learning and have many exciting plans for the future!"
Student Engagement Category - Norah Burns has been nominated for her work in exploiting the digital tools available to her to enhance the student experience, and particularly for her efforts in supporting her Level 1 students in their transition into university. Norah's successful incorporation of UDL principles and her collaboration with the Student Skills Assistants, led her to develop an effective strategy in maintaining student engagement through the use of a variety digital tools.
Norah Commented, "I am delighted to be shortlisted for the AHSS Digital Learning Awards (2022) in the student engagement category. I joined the Law School in September 2021 during the Covid-19 pandemic and through working on the peer mentoring programme and transition skills project, I have gotten to know the brilliant students and staff in the School and worked on a range of projects that have helped to increase student engagement at a challenging time."
Innovation Category - LawPod is a co-curricular platform for active learning and skills development, developing technical skills in production and editing, and building key transferable skills in communication, organisation, research and team-work. Under the direction of Dr Lauren Dempster and Richard Summerville, LawPod has been a trailblazing effort in the faculty, leading the way for other similar projects to come to fruition. Lauren and Richard said,
"We are delighted to be shortlisted for the AHSS Digital Learning Awards. Lawpod was created in 2017 by Dr Rachel Killean and Richard Summerville - it was the first professionally produced podcast in QUB. Since then we have worked hard to create an innovative and collaborative experience for students and provide staff with a robust platform for disseminating their research."
Innovation Category - Ciaran O'Neill and Christopher Laverty have been nominated for their teaching & learning collaborative project between Learning Development Services and the School of Law. Their sustainable and innovative approach to incorporating Transition Skills training directly into the curriculum, using quizzes, polls and discussion forums in Canvas, caters for high levels of student engagement and increased intervention points for student support and upskilling.
Dr O'Neill and Dr Laverty said, "We are delighted to be shortlisted for a Digital Learning Award under the theme of Innovation. Working with the Level 1 students in Law in 2022 has proven an excellent opportunity. The Transition Skills course has influenced the development of a new model of student engagement at module level, one where academic skills support is more fully embedded within the core teaching schedule. The feedback from staff and students has been really positive and we look forward to taking this work forward in 2022-23."
Teamwork Category - The Law PhD Student Research Network (SRN) have been nominated for their commitment and work to ensure the doctoral community has remained connected digitally despite the ongoing impact of the pandemic. This team of PhD students and their online initiatives and activities have mitigated the sense of isolation and loneliness, and recreated a vibrant working environment for the PhD students in Law.
"The Student Research Network is run by PhD students within the QUB School of Law and aims both to promote the work of doctoral students and create a supportive and engaged PhD community. We are absolutely delighted to be shortlisted for the AHSS Digital Learning Awards in the category of Teamwork. The SRN Team has developed a range of digital and hybrid ways to communicate, gather and learn as we adapted to the reality of the Covid-19 pandemic. We continue to work across digital platforms as we being to emerge from Covid to improve accessibility, enhance networking opportunities, disseminate our research and support the PhD community. It means a lot to have this work recognised by the University."
Good Luck to all!