QUB Law Students debate the Sakharov Prize
Students from the School of Law at Queen's University Belfast recently took part in a debate about this year's finalists for the Sakharov Prize.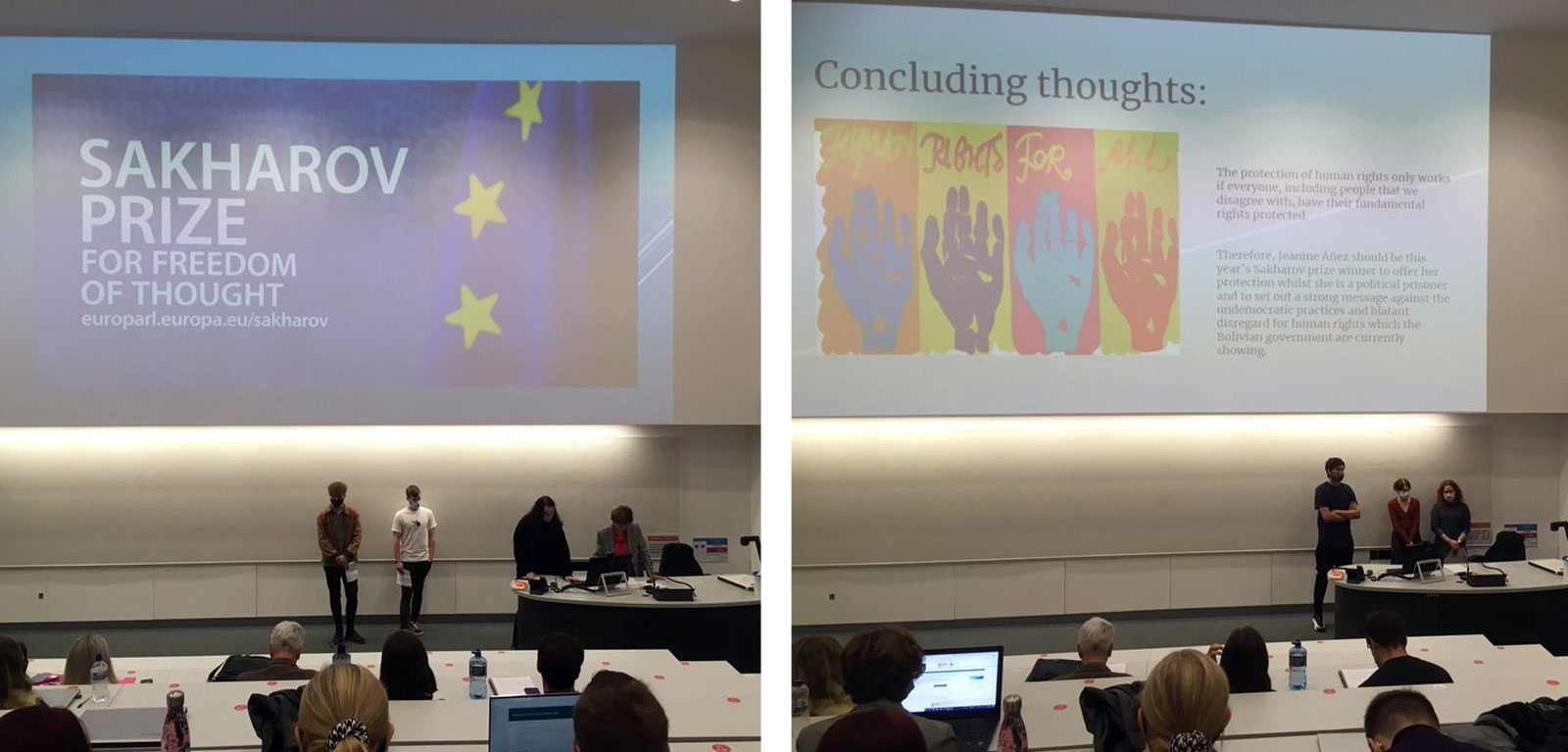 The Sakharov Prize for Freedom of Thought, named in honour of the Soviet physicist and political dissident Andrei Sakharov, has been awarded by the European Parliament annually since 1988 to individuals and organisations defending human rights and fundamental freedoms.
The postgraduate Human Rights in Practice module class had the honour of welcoming Susanne Oberhauser, the Head of the European Parliament's UK Office and Per Johansson, Head of the European Parliament Office in Edinburgh, who attended the debate as part of the European Parliament's outreach and engagement activities. Ms Oberhauser opened the debate by providing a fascinating overview of the history and objectives of the Sakharov Prize as well as the European Parliament's commitments to human rights. Mr Johansson closed the debate by providing feedback to the class on their excellent presentations. After the event, the European Parliament sponsored a reception, which gave the students an opportunity to chat informally with Ms Oberhauser and Mr Johansson.
Students who took part in the debate had this to say;
"I think the presentation was an excellent experience. I enjoyed doing work with fellow students and presenting to the two EU representatives. There was a real buzz in the auditorium and it was a great way to develop presentation skills. I hope there will be more opportunities like this."
Elizabeth Headley
"I really enjoyed meeting with fellow classmates and collectively presenting on our chosen 2021 Sakharov Prize candidate. The preparation undertaken for this class debate in the weeks prior, afforded me the opportunity to improve upon my research skills and better understand the role and contributions of human rights activists working in the field. My favourite part of the project was getting the opportunity to meet with European Parliament representatives who joined us on the day and provided feedback on our presentations. As a class, we also had the chance to participate in an electronic poll in which we could vote for who we think should win the prize. This was a very interactive and educational experience which I can take with me in my human rights career."
Rebecca McKinney
"I thoroughly enjoyed taking part in the Sakharov Prize Debate. For me, this group work was especially beneficial as it challenged us to take our learning outside of the 'theoretical, to learn, analyse and debate the merits of numerous human rights defenders operating in very real, and often very dangerous, circumstances. Also, having an opportunity to network with representatives of the European Union was very meaningful, and especially enjoyable to network in person in a post-covid educational environment."
Cara MacSherry


Very successful #SakharovPrize debate event with students in @QUBelfast last week@Europarl_EN gives the prize in recognition of an individual or groups work to improve human rights

More about the prize and 2021 finalists: https://t.co/DNcA8JQX0Y pic.twitter.com/Mu3ALxv83t

— Europarl UK (@EPinUK) October 19, 2021
https://www.europarl.europa.eu/news/en/headlines/eu-affairs/20211008STO14523/sakharov-prize-2021-the-finalists
https://www.europarl.europa.eu/sakharovprize/en/home