Queen's School of Law Student wins Diana Award
Law student Yi Kang Choo, originally from Malaysia, is a recipient of this years Diana Award. He has been recognised for his efforts to provide support for Malaysian students studying abroad during the pandemic.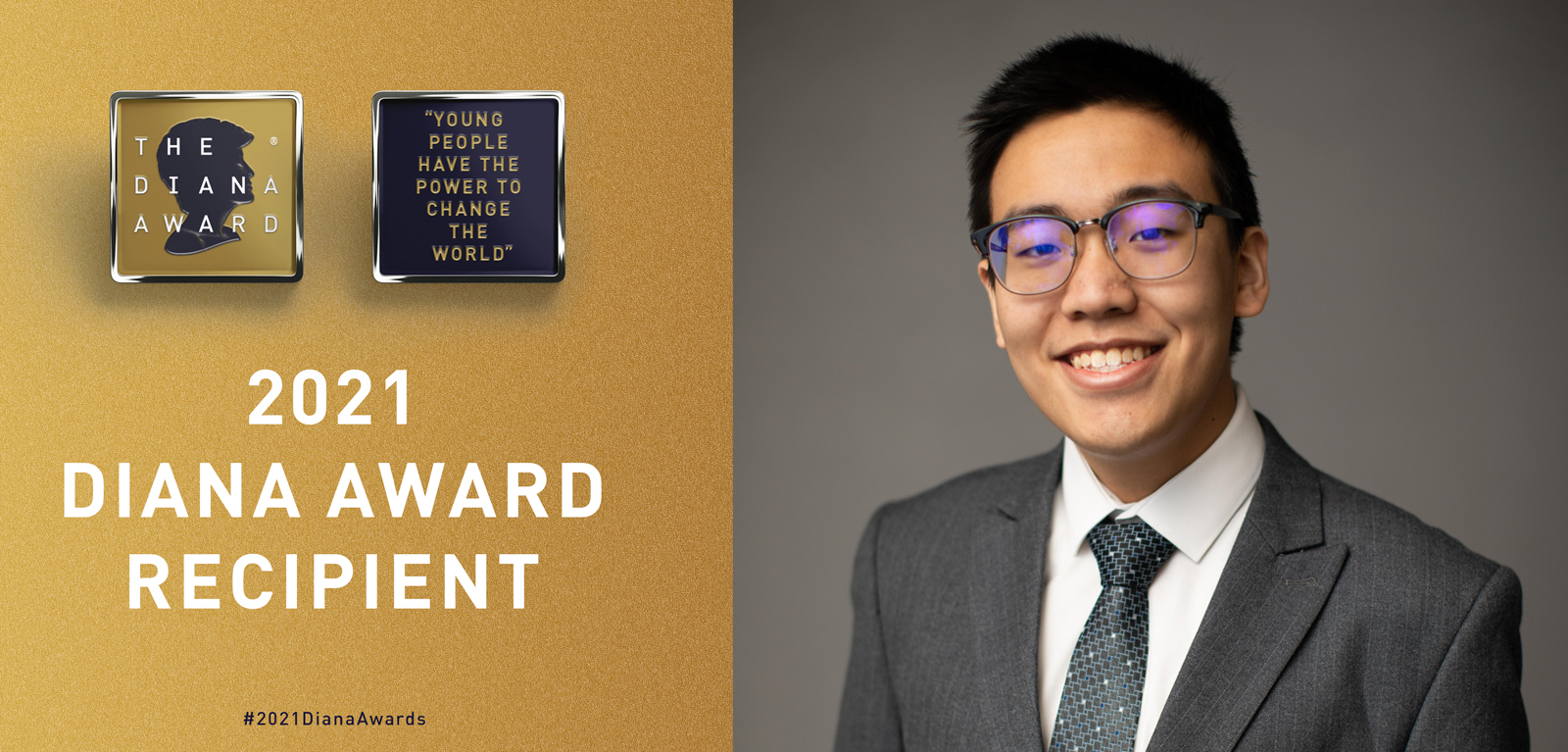 Choo was nominated for the Diana Award for his Welfare Taskforce for Malaysian Students Abroad initiative which he established after realising that there was a lack of support for Malaysian students studying abroad during the pandemic. When asked what this entailed Choo replied:
"We volunteered our time to provide valuable support to young people who couldn't return home due to the pandemic, or who were experiencing mental health challenges as a result of being isolated in a foreign country as part of the Taskforce.
For example, we launched several initiatives, including a buddy support system (pairing up more than 80 buddies) and creating online content/infographics to promote students' mental wellbeing during the lockdown. We also invited other students and health professionals to share their travel experiences and also tips on how they cared for their mental health during the lockdown through several 'Chit-Chat Sessions' that were later uploaded on Facebook & YouTube. We also recruited and assigned regional volunteers in the four regions of the UK, Ireland, Malaysia and Germany. Finally, we partnered up with a mobile app service (SpareHands) to support students who required grocery support during their isolation period at home.
We managed to support more than 1,300 students worldwide, including students based in the UK, US, Russia, Germany, Japan, Ireland, Australia, Singapore and Malaysia in our Facebook group. We also garnered up to 27K social media reach for our wellbeing-related posts."
Established in memory of Diana, Princess of Wales, the Diana Award is given out by the charity of the same name and has the support of both her sons, The Duke of Cambridge and The Duke of Sussex. The award is given to young people going above and beyond in their daily life to create and sustain positive change in their communities.
Tessy Ojo, CEO of The Diana Award, said:
"We congratulate all our new Diana Award recipients from the UK and all over the globe who are changemakers for their generation. We know by receiving this honour they will inspire more young people to get involved in their communities and begin their own journey as active citizens. For over twenty years The Diana Award has valued and invested in young people encouraging them to continue to make positive change in their communities and lives of others."
We asked Choo how it feels to have won the award: "I am super grateful and honoured to be receiving this prestigious award. This would never be made possible with the trust I received from the One Young World team, who nominated me for the award. I would also like to dedicate this award to all the mentors, partners, colleagues, friends, & family members who had taught me so many important life lessons throughout my social work journey!
I would also hope to leverage this award to strongly encourage more young people out there to never stop dedicating their time/effort to contribute to meaningful voluntary work within their local communities! Young people do have the POWER to CHANGE the world - so never underestimate the huge potential you and I have to make our world a better place for all!"
Dr Marek Martyniszyn, Interim Head of the School of Law at Queen's had this to say about Choo's achievement:
"In the School of Law, we are extremely proud of Yi Kang Choo. We are truly delighted that his extremely valuable work received due recognition. Yi Kang went above and beyond; he used his skills, energy and enthusiasm to help others in these challenging times of global pandemic. His efforts cultivate Queen's core values- integrity, connectivity, ambition, respect and excellence. I hope this acknowledgement will motivate fellow young people to follow Yi Kang's steps in making such a valuable contribution to society."