Life is a daring adventure!
Student Social Media Ambassador Shawn Tan shares his experience.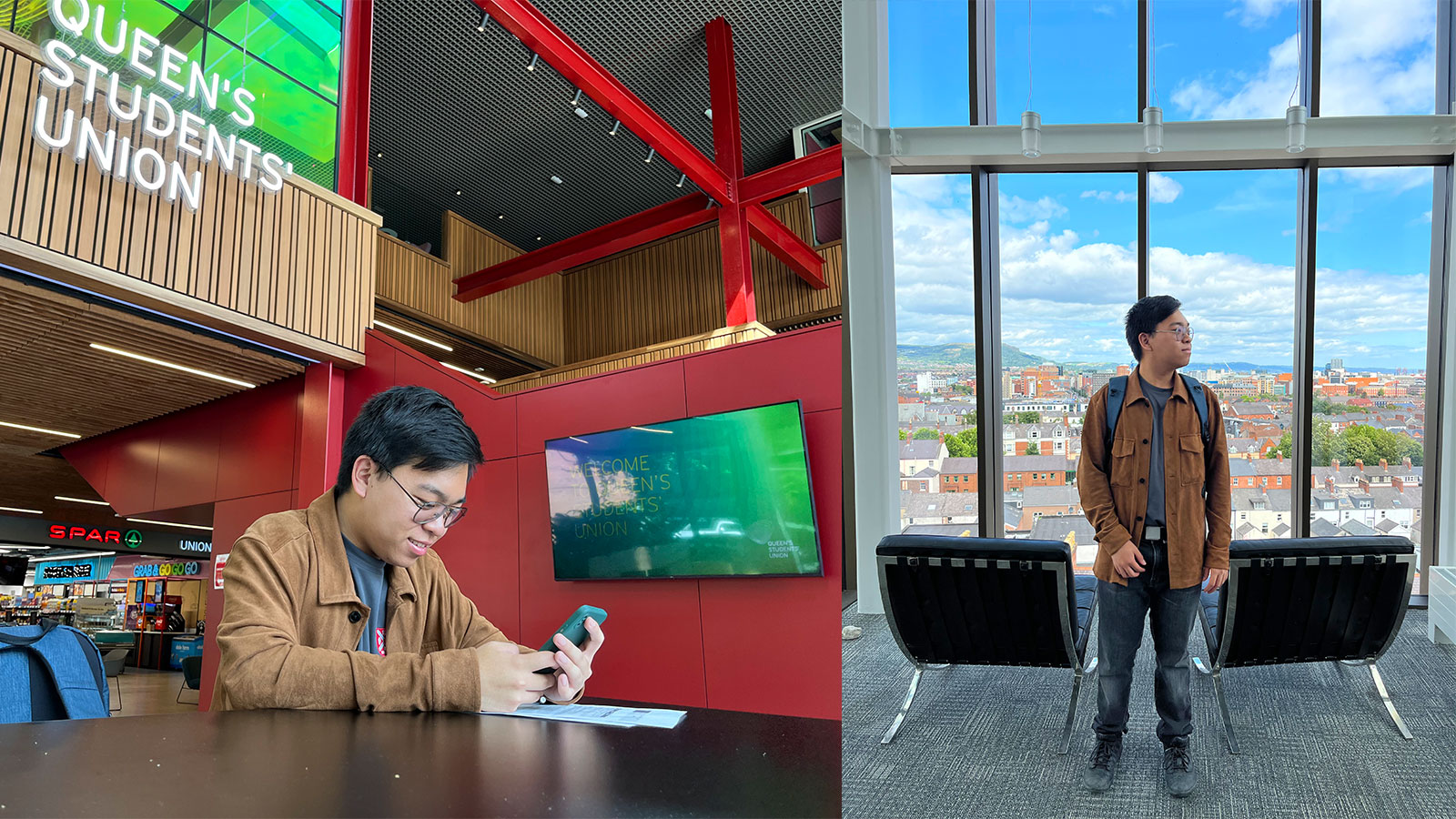 Hello! My name is Tan Yoong Sern, but most people recognise me as Shawn Tan. I have just recently graduated with LLB Law at Queen's University Belfast. Hailing from Malaysia, I joined Queen's under its partnership with Brickfields Asia College (BAC), of which I entered the LLB degree at Level 3.
As an international student myself, I was instantly bombarded with numerous (free!) events organised by Queen's upon my arrival in September 2022, such as the 'Green' Wellbeing Walk and Talk, a tea party by the Faculty of Arts, Humanities and Social Sciences, and the City Sightseeing Bus Tour. In those events, I have had the opportunity to meet other international students from different faculties and backgrounds, and to get used to Belfast a little better for the rest of my academic year.
One of the main reasons I have chosen Queen's is the vast breadth and depth of modules that are being offered, especially towards the final year. My favourite subject was the Gender and the Law module, which explores the dynamics and nuances in which the law interacts with the concept of gender. I also had the chance to undertake a dissertation in relation to the rights of sexual and gender minorities under international human rights law which I am grateful of and passionate about.
While I was in my final year and thought that I could not accomplish much in pursuing a career in Belfast since I only started studying here recently, Queen's Careers, Employability and Skills has been wonderful and supportive in making sure that international students like me are able to compete in the labour market as would local students do by giving us plenty of information and guidance in CVs, interviews and skillsets employers seek. I am fortunate to have received a DegreePlus/Future Ready Award after graduation, which is an employability award formally recognising my extracurricular experience during my time at Queen's. In my case, I worked as a social media ambassador in the School of Law (TikTok) and studied German under the QUB Language Centre for a semester.
All in all, my time at Queen's, while short, has been the one of the most fast-paced moments of my life. It is all about taking advantage of the academic and careers resources, networking and social events, and also taking the time to relax and build memories along the way. As of writing, I am interning under the Think Pacific Foundation (a virtual internship programme fully funded by Queen's!) and recently started working as Analyst 1 at FinTrU Belfast. Life is a daring adventure!