Books published by academics in QUB School of Law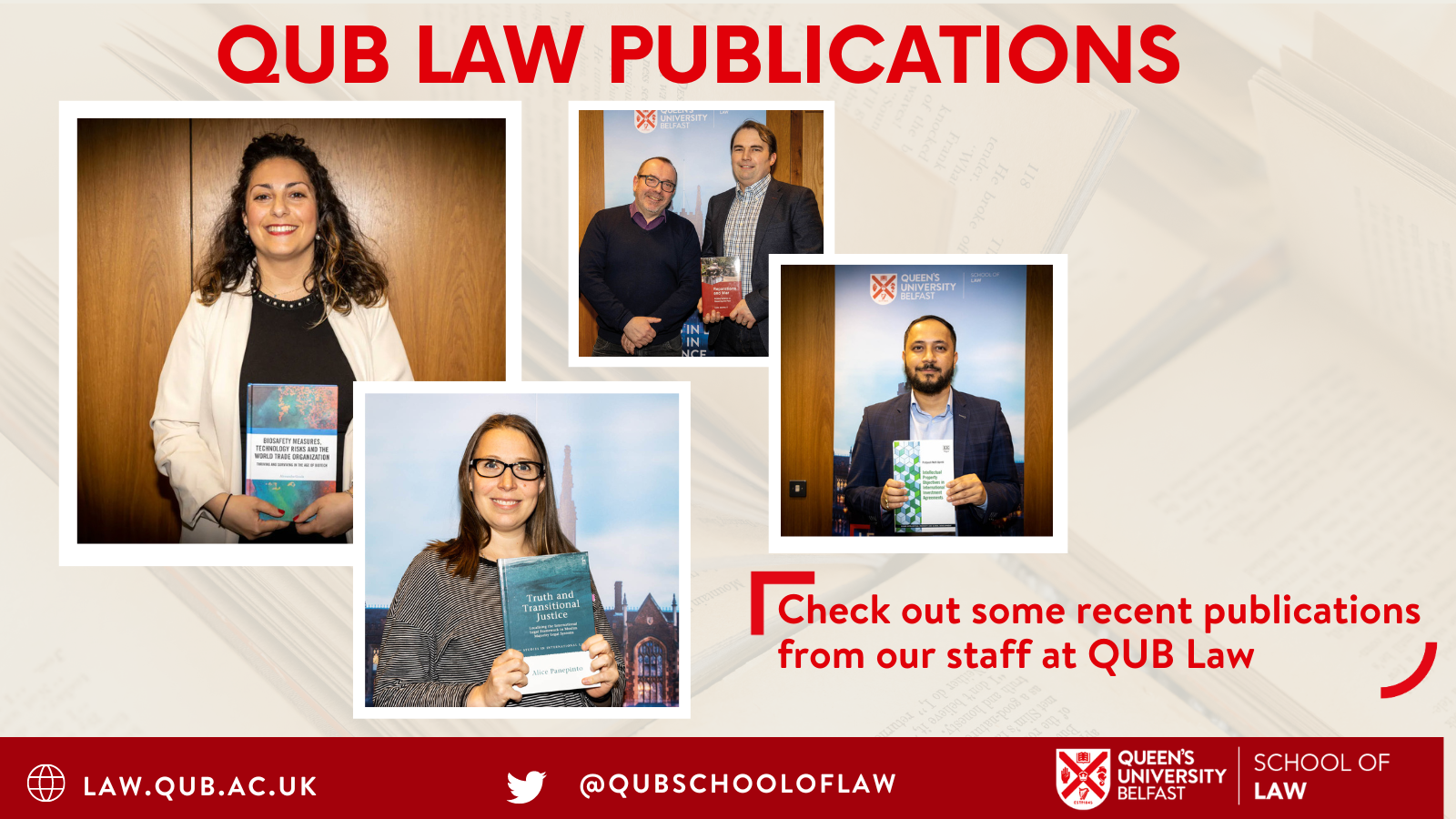 We are proud of our research at QUB School of Law. Over time, scholars at QUB Law have published nearly 4,000 research outputs between them. 2022-23 has proved to be another busy period with several significant new books published by our academics. Below, we survey some of the most recent publications, seeking to illuminate the excellent research output of our school.
In 2022, Dr Alice Panepinto released her much-anticipated book Truth and Transitional Justice: Localising the international legal framework in Muslim majority legal systems, which explores issues relating to transitional justice in the aftermath of the Arab Spring, and ways in which accountability can be achieved for the countless number of human rights violations. The book now serves as an essential guide to those designing truth-seeking processes, particularly in Muslim-majority countries.
Professor Brice Dickson launched his important new text looking at International human rights monitoring mechanisms and their impact on the United Kingdom. Professor Dickson's book explores how the United Nations and Council of Europe mechanisms on human rights interact with UK law.
Dr Ronagh McQuigg released her authoritative new publication assessing Criminal justice responses to domestic abuse in Northern Ireland. The book examines responses to domestic violence in Northern Ireland since 2010, with a special focus on domestic violence during the pandemic. McQuigg's work also begins to explore the impact of coercive control legislation, which was enacted in 2021.
This year also saw Dr Conor McCormick produce his highly praised monograph looking at the Constitutional legitimacy of law officers in the UK. McCormick explores how recent controversies around the way law officers throughout the four parts of the UK have discharged their duties has impacted their perceived legitimacy.
Dr Pratyush Nath Upreti continued his prodigious output in the field of intellectual property, launching his new book examining Intellectual property objectives in international investment agreements. His book launch in December was well received, with Pratyush winning the IPKat Intellectual Property Book of the Year 2022.
Dr Nath Upreti is consolidating QUB's expertise in this field with the launch of a new taught masters in September, LLM Intellectual Property Law, alongside his colleagues Prof Giancarlo Frosio and Dr Alessandra Guida.
In February, Dr Luke Moffett continued to build upon his growing reputation in the study of peace and reconciliation with his latest publication, Reparations and War. The book draws upon the interviews of over three hundred people in post-conflict societies and theorises the role of reparations in those societies. Luke's book launch in the Moot Court at the Law School was well attended and warmly presented by Kieran McEvoy.
In May, Dr Alessandra Guida launched her new book, examining the World Trade Organisation. Guida's work "Biosafety Measures, Technology Risks and the World Trade Organization: Thriving and Surviving in the Age of Biotech" explores the role of the judiciary in striking a balance between free trade and safety in the world of biotechnology. Policymakers working on precautionary governance and management will lean on this text for many years to come.
_________________________________________________________
Notes:
Alice Panepinto, Truth and Transitional Justice: Localising the international legal framework in Muslim majority legal systems (https://www.bloomsburycollections.com/book/truth-and-transitional-justice-localising-the-international-legal-framework-in-muslim-majority-legal-systems/introduction)
Brice Dickson, International human rights monitoring mechanisms and their impact on the United Kingdom (https://www.e-elgar.com/shop/gbp/international-human-rights-monitoring-mechanisms-9781803920504.html)
Ronagh McQuigg, Criminal justice responses to domestic abuse in Northern Ireland (https://www.routledge.com/Criminal-Justice-Responses-to-Domestic-Abuse-in-Northern-Ireland/McQuigg/p/book/9781032199658)
Conor McCormick, Constitutional legitimacy of law officers in the UK (https://www.bloomsbury.com/uk/constitutional-legitimacy-of-law-officers-in-the-united-kingdom-9781509944132/)
Pratyush Nath Upreti, Intellectual property objectives in international investment agreements (https://www.e-elgar.com/shop/gbp/intellectual-property-objectives-in-international-investment-agreements-9781802204209.html)
Luke Moffett, Reparations and War (https://global.oup.com/academic/product/reparations-and-war-9780192865588?q=9780192865588&cc=gb&lang=en)
Alessandra Guida, Biosafety Measures, Technology Risks and the World Trade Organization, Thriving and Surviving in the Age of Biotech (https://www.routledge.com/Biosafety-Measures-Technology-Risks-and-the-World-Trade-Organization-Thriving/Guida/p/book/9781032351865)