QUB Law team places second in the OUP Moot
Congratulations to Sarah Hair and Ruby Sturgeon on their sterling performance.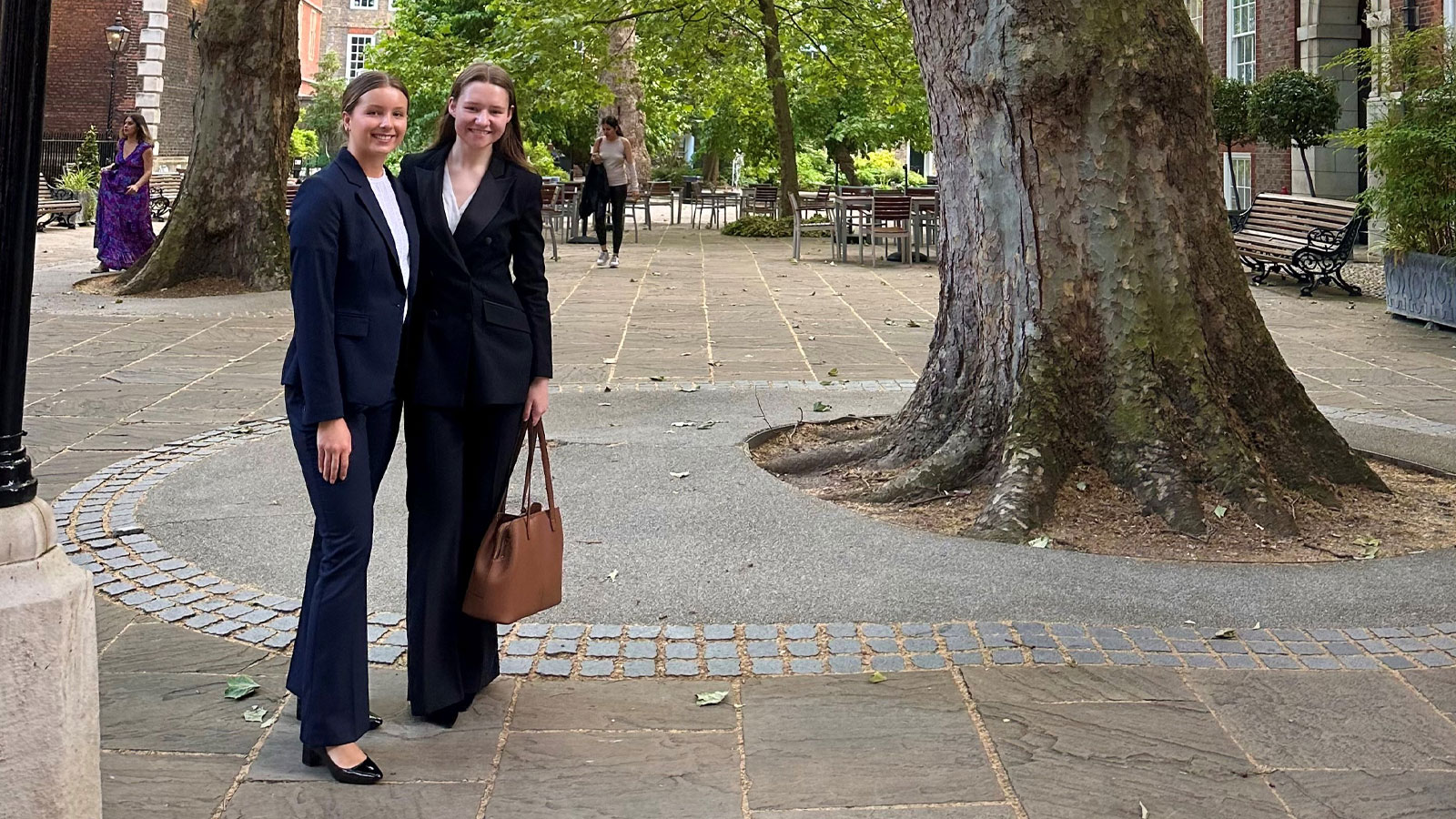 Queen's University School of Law's brilliant team, composed of Sarah Hair and Ruby Sturgeon, placed second in the prestigious OUP & the ICCA National Mooting Competition, a crucial stage for undergraduate law and GDL students to hone their advocacy skills.
On Monday, 12th June, all finalists convened at The Honourable Society of Middle Temple for a thrilling day of mooting, paired with a lunch at Middle Temple Hall and a drinks reception.
Ruby Sturgeon commented on the process of reaching the final, "The five rounds in this competition that led us to the finals faced us with a variety of legal scenarios to navigate, most of which I had never come across in my degree. Along the way I learnt so much from working under our mentor Dr Capper and with my teammate Sarah Hair, as well as appearing opposite many exceptional opponents. This having been my first external moot, it was an honour to place second amidst such stiff competition. The process was an excellent exercise in building resilience and self-confidence."
Although the University of Oxford claimed first place, the spotlight shone brightly on the Queen's University School of Law team, who gave a commendable performance in securing second place, making the school immensely proud. Their achievement in the competition marks another significant highlight in the annals of the law school's mooting history.
Mooting is a co-curricular activity in the law school and provides invaluable practice for students, offering the chance to argue hypothetical cases in a simulated appellate court setting. Regardless of academic standing, involvement in mooting provides unique insights into the practical facets of law. Competitors get the opportunity to master written and oral advocacy skills, experiencing the application of law in real-world scenarios while crafting and presenting compelling arguments on stipulated issues.
Sarah stated, "Mooting has been the highlight of my degree, providing unparalleled practical experience and advocacy skills. In terms of networking, intervarsity moots like OUP have presented invaluable opportunities to connect with legal professionals and judges. And of course, aside from the academic development which reasoning out persuasive arguments cultivates, competing is brilliant fun!"
Ruby reinforces the value that mooting has had to her development within the school, "Mooting has strengthened my critical analysis skills, improved my ability to construct complex legal arguments and to think on my feet. There being no better way to get insight into the real demands of interacting with counsel and judges, and as such, competing has confirmed my desire to practice as a barrister."
Find out more about mooting in the School https://www.qub.ac.uk/schools/SchoolofLaw/employability/mooting/